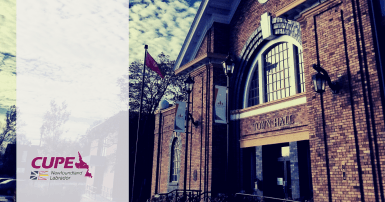 Bargaining between the Town of Grand Falls-Windsor and municipal employees represented by the CUPE 1349 have reached an impasse. The union has informed the employer that they will not be responding to the latest proposal package. A consultant from Halifax, hired by the Town to conduct bargaining on their behalf, will be filing an application for conciliation with the provincial department of labour.
CUPE 1349 President Tammie Greening says, "We've been at this since October and, up to this point, there hasn't been any discussion on monetary items, it has mostly been language related."
"Most of the proposals from the employer are concessionary in nature," says CUPE National Representative Ed White. "We have a 'no concession' policy set out by our national union and we will continue to defend the provisions that were fairly negotiated in previous rounds of bargaining."
"As a resident of Grand Falls-Windsor and as a worker, I'm greatly concerned about the direction Council has taken in this round of bargaining," says Greening. "We will be meeting with our members Thursday evening to bring them up to date."
Canadian Union of Public Employees (CUPE) Local 1349 represents approximately 100 members employed by the Town of Grand Falls-Windsor. They work in recreation services, fire dispatch, administration, taxation and finance, road maintenance, water and sewage, municipal enforcement, and engineering and planning.