Archana Rampure | CUPE Political Action
The federal NDP secured a significant victory for Canadians on democratic reform. After the Liberal government gave themselves a majority on the committee to study future voting systems, the NDP put forward a motion to create consensus and make the committee proportionally reflective of how Canadians actually voted in 2015.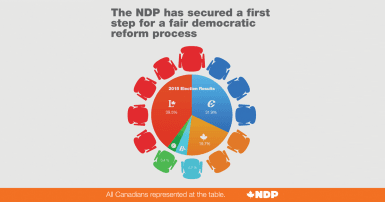 In early June, the Liberal government announced it would support the NDP's motion, removing their own majority on the committee and granting voting rights to the Bloc Quebecois and the Green Party.
"This is a positive first step towards what we hope will be meaningful democratic reform for Canadians," said NDP Critic for Democratic Reform Nathan Cullen.
"The important victory that we secured today means that all Canadians will be better heard through this process."
"With this agreement, we are happy to have brought parties together and secured substantial concessions from the government," said NDP deputy critic for Democratic Reform, Alexandre Boulerice. "As a result the committee will better reflect Canadians' votes, something that the next electoral system should also reflect."
The committee will oversee the government's plan to table electoral reform legislation by Spring 2018. Further plans include giving each MP a mandate to hold at least one townhall in their riding and report back to the committee by October 1, 2016. The committee will also conduct comprehensive and inclusive consultations through written and online tools and report back by December 1, 2016.