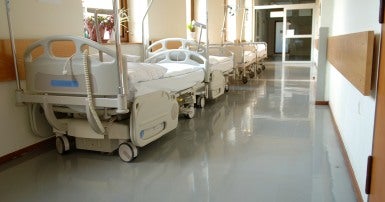 CUPE NB and the leaders of the CUPE Centralized Bargaining Team held an online press conference today to announce the strike vote results of healthcare workers of CUPE 1252, the NB Council of Hospital Unions (NBCHU).
"Over 7,279 members of CUPE 1252 came out to vote, and 94 per cent of them voted YES," said Norma Robinson, president of CUPE 1252 - NBCHU. "Participation was good. Out of everybody who showed up to vote, less than 344 voted NO. The membership is clear: they want the Premier to fix our healthcare system, and that starts at the bargaining table," added Robinson.
Out of the 10 provincial locals conducting strike votes, eight CUPE locals have now completed their votes.
"There are just two locals left to vote. To date, all locals part of the Centralized Bargaining Team who conducted votes had results between 83 per cent and 98 per cent YES votes," said Stephen Drost, President of CUPE NB.

"It's time to fix our public services and help the people who deliver them," said Robinson.
CUPE1190 ( General Labour and Trades) and 5026 (Francophone CCNB) will have their votes done and counted no later than by October 5, 2021.
"What we are doing is trying to tackle head on the rising inequalities happening in our province. Workers, unionized and non-unionized, deserve a fair deal from this government," explained Drost.

The CUPE Centralized Bargaining Team took time to denounce Premier Higgs's wasteful use of tax dollars in anti-union propaganda, such as province-wide attack radio ads and newspaper ads. "Instead of dealing with the crisis, Premier Higgs is shamefully sending New Brunswicker's money to US radio stations, such as Q96 in Presque Isle, Maine, to attack NB public service workers part of CUPE," said Drost. "We are all tired of empty promises, inaction on increased cost of living issues and wasted tax dollars in anti-union propaganda," said Drost.
"Front-line workers have endured so much with so little support, it's time government took them seriously. Decades of little to no wage increases, along a major recruitment and retention crisis, can and must be dealt with at the bargaining table through fair wages," concluded Drost.