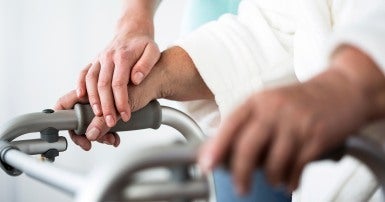 National Nursing Week - May 7 to May 13 - is an opportunity to recognize nurses for keeping the pulse of Canada's health care system strong. It is also a time to celebrate Care Aides, Continuing Care Assistants and Personal Support Workers for the hard work they carry out across the country.
Mark Hancock, National President of CUPE, and Charles Fleury, National Secretary-Treasurer, thanked CUPE nurses and health care workers for their dedication and hard work on the front lines delivering quality care all Canadians depend on.
"More than 35 million Canadians rely on our health care system," Hancock and Fleury said in a letter. "The work of CUPE nurses is often hampered by inadequate public health care funding, privatization, P3s, contracting out and a lack of managers' commitment to proper health and safety and an end to workplace violence. Overall, CUPE nurses demand respect and safe working conditions. Nurses want full utilization of trained skills, proper staffing levels, fair compensation, and team nursing. Patients and families want better access to services. Public health care delivery free of privatization and properly funded can enable this."
CUPE proudly represents tens of thousands of Registered Practical Nurses (RPNs), Licensed Practical Nurses (LPNs), and Registered Nurses (RNs) in hospitals, rehabilitation centres, surgery units, teaching hospitals, long-term care facilities and home and community care centres.
"We know that providing care on the front-line of the health care system is not easy," Hancock and Fleury said. "PSWs, Care Aides and CCAs are facing challenging times. Very low staff-to-resident ratios in long term care, hospitals and other workplaces are hurting both workers and patients. Health and safety violations, including violence, abound. CUPE continues to fight for proper public health care funding, an end to privatization and improved working conditions that benefit both those who are caring and the patients, residents and family."
"Without CCAs, Care Aides and PSWs, Canada's health care system would grind to a halt," they said. "These CUPE workers help patients with daily life's essential activities, and with delegated medical tasks. CUPE is proud to represent tens of thousands of PSWs, Care Aides and CCAs who make a positive impact in the lives of so many patients, residents and families every day in hospitals, long-term care organizations, home and community care."
CUPE nurses and health care workers deliver quality public services in our communities and fight against privatization and austerity at the same time. CUPE nurses and health care workers continue to be on the front lines, fighting for quality public health care and working hard to advance health care workers' issues.