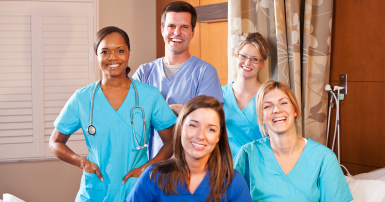 National Nursing Week 2015 is from May 11 to May 17 – it's our chance to recognize nurses across the country for the way they help keep the pulse of Canada's health care system strong.
In a letter sent to CUPE locals, CUPE National President Paul Moist and CUPE National Secretary-Treasurer Charles Fleury thanked CUPE nurses and health care workers for their dedication and hard work on the frontlines, ensuring quality care all Canadians depend on.
"Across Canada, our public health care system relies on the work of CUPE nurses and health care workers, wrote Moist and Fleury. "Their clinical skills and professionalism are matched only by the empathy, compassion and commitment to quality care that they bring to their patients every day."
CUPE proudly represents tens of thousands of registered practical nurses (RPNs) and licensed practical nurses (LPNs), as well as several hundred registered nurses (RNs).
CUPE nurses continue to be on the frontlines, fighting for quality public health care and working hard to advance health care workers' issues.
The upcoming federal election is the perfect opportunity to get engaged and vote in support of a universal public health care system.
"CUPE will be active in the coming months to remind Canadians that in the upcoming federal election it is more important than ever to vote for the party that is the strongest supporter of public health care," they said.
We need real federal leadership to save our system – visit saveourhealthcare.ca  to find out how you can help.