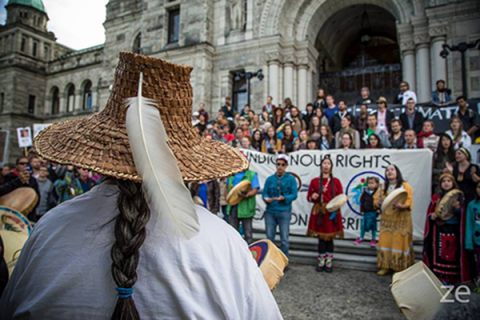 Dear Sisters and Brothers:
National Aboriginal Day is a day to recognize and celebrate the cultures and contributions of Indigenous peoples in Canada. The day was first celebrated in 1996, and now it is marked annually on June 21. It is an opportunity to become better acquainted with the cultural diversity of Indigenous peoples, and their unique accomplishments in agriculture, medicine, environmental sustainability, and the arts. Their significant contributions to the development of Canadian society are well worth celebrating.
The success of the Idle No More movement put indigenous issues in the spotlight in Canada and across the world. It is a testament to the vibrancy of Indigenous peoples. The Idle No More movement began with the actions of four women who held "teach-ins" about the environmental consequences of new federal legislation passed by the Harper government. Their teachings highlighted the harm this legislation would cause the environment, and the government's failure to follow through on its legal duty to consult with Indigenous communities.
Idle No More has grown and continues to encourage people across Canada to discuss First Peoples issues. This discussion has expanded to focus on the high rate of unemployment among Indigenous peoples, unacceptable poverty rates in communities, poor water and sewage issues on reserves, and overcrowded housing. It has drawn attention to the disproportionately high number of missing and murdered Indigenous women and girls in Canada, a devastating human rights issue.
We must all learn of Indigenous peoples' history when we seek to understand and address the persisting injustices faced by them. CUPE offers Aboriginal Awareness courses to our members through our Equality Branch. Email equality@cupe.ca for more information.
Sometimes people blame Indigenous peoples for the major issues they face in Canada, but we know that past and current government policy and legislation play a central role in perpetuating the injustices and human rights violations that they experience. The Harper government has made a point of attacking many different groups and organizations seeking social justice for all, including Indigenous activists and trade unions. The 2015 federal election will be a crucial opportunity for the labour movement to stand in solidarity with Indigenous peoples to ensure that a social justice agenda is front and centre in election campaigns. We hope you'll join us in making our voices heard on this important issue. 
For information on how you can support Idle No More and get involved in National Aboriginal Day events, visit idlenomore.ca.
In solidarity,
Paul Moist
National President
Charles Fleury
National Secretary-Treasurer


Photos by Zack Embree