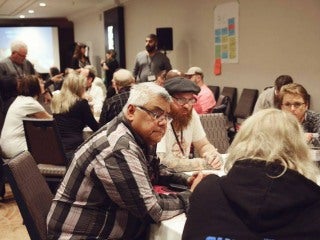 Municipal workers resist privatization and protect services through mobilization, collaboration and political action.
Toronto, October 6 to 9, 2014
CUPE's municipal sector council meeting brought together nearly 200 members to share, strategize and strengthen relationships.
A cross-country check-in about the issues facing CUPE's municipal members revealed many common challenges. Members highlighted the need to deepen our unity and solidarity, as they face difficult rounds of bargaining; attacks on free collective bargaining, pensions, benefits, seniority rights and sick leave; violence, bullying and lack of respect in the workplace; contracting out and public-private partnerships; low member morale; unfilled positions; and constantly being asked to do more with less.
As they told their stories, members made the links between their struggles – whether it was saving municipal golf courses in Winnipeg, Calgary, Toronto and Prince George, or identifying consulting giant KPMG's cut-and-paste approach to pushing privatization as the solution in every core service review it conducts. A panel discussion shared insights from winning anti-privatization campaigns in Toronto (CUPE 79), Winnipeg (CUPE 500) and Prince George (CUPE 1048 and CUPE 399), as well as CUPE Quebec's campaign promoting in-house delivery of municipal services as a powerful anti-corruption tool.
What's happening in the world has impact at the bargaining table, and what's happening in our communities has a global impact. Through the story of campaigns to defend and promote public water services in Colombia, the Philippines and Detroit, CUPE's International Solidarity officer Kelti Cameron shared examples of how CUPE's anti-privatization work is fed by - and feeds – international resistance to multinational corporations and builds a stronger movement.
A lively panel on the relationship between municipal and federal politics drew a straight line from Parliament Hill to every city and town in Canada. Drawing on work in his home riding in Montreal, New Democrat MP Alexandre Boulerice emphasized the importance of electing progressive representatives who can work together to build a better Canada, community by community.
CUPE Research Director Shelly Gordon described how the federal government's withdrawal from key areas like employment insurance, social housing, transit and child care puts greater pressure on already-squeezed municipal budgets, along with new infrastructure funding rules that force municipalities into P3s.
When CUPE mobilizes to elect good municipal governments, they can act as advocates with the higher levels of government.  Members described why political action couldn't stop after election day. Staying in touch and holding elected representatives to account between election cycles is crucial to defending public services and good jobs.
Protecting good pensions was a major focus, with presentations from CUPE 38's D'Arcy Lanovaz and CUPE Quebec Regional Vice President Denis Bolduc on the mass mobilizations to stop government attacks on defined benefit plans.
Collaboration was key throughout the meeting, with members working in groups to identify issues and priorities for future sector gatherings and telephone town halls, including privatization, core service reviews, pensions, bargaining trends, as well as members being harassed through attendance management programs.
Members also contributed to developing a new CUPE tool that will help locals identify areas of vulnerability to employer attempts to introduce two-tier wages, benefits or other working conditions.
A communications workshop built on the plenary Fairness session, helping members explore the barriers and the opportunities when it comes to engaging and mobilizing rank-and-file members. Participants shared creative ways of finding their members, and connecting on the issues that matter most to them.
Working together, participants identified their group strengths and laid the groundwork for more collaboration and cross-country solidarity. Members left the meeting with a sense of shared issues and new ideas to take home to their locals.
Photo album: Municipal sector council meeting