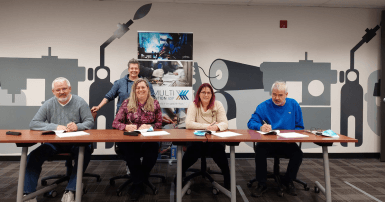 Twenty-nine prevention and health counsellors and office employees with MultiPrévention ASP ratified collective agreement today. The previous one expired on January 1, 2021.
At a general meeting last January 25, 90 per cent of the membership ratified the tentative agreement.
The five-year contract, which runs from January 1, 2022 to December 21, 2026, calls for an overall wage increase of 13.75 per cent (2.75 per cent annually) along with a Consumer Price Index (CPI) escalation clause.
Some of the gains include the establishment of a four-day schedule and improvements to meal premiums and mileage allowances. The employees will also be able to join the FTQ Member-funded Pension Plan (MFPP-FTQ).
"Negotiations took place in a respectful atmosphere, and we're proud of the improvements made in the new agreement," declared CUPE representative Caroline Labelle.
MultiPrévention ASP is a joint labour-management sectorial association, whose mission is to provide prevention-related advice in the area of health and occupational safety to employers and workers in various sectors: printing and related activities, manufacture of metal products, electrical products, clothing and hosiery textiles.