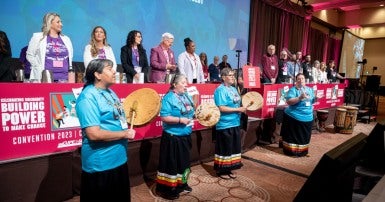 A year full of remarkable labour victories and displays of worker power is being celebrated at this year's CUPE Ontario convention, and anticipation of plans for the year ahead is running high among the thousand delegates meeting in downtown Toronto. They are attending the union's first in-person convention in three years.
The theme for 2023's convention is Celebrating Solidarity, Building Power to Make Change, chosen as both a reflection of the past year's achievements and of the direction of the union's work in the province over the coming year.
"The value of the work of CUPE members was never more apparent than during the pandemic, and the recognition of that value was never more evident than during the past year," said CUPE Ontario President Fred Hahn. "We saw workers organize and mobilize like never before, we saw the labour movement come together, and we saw Doug Ford forced to repeal anti-worker legislation that was meant to bully education workers.
"Our convention is about putting together an action plan that will build on those victories, that public support, and that momentum to deliver better public services for Ontarians and a better deal for CUPE Ontario members."
Convention attendees will hear from an inspiring lineup of speakers, starting on opening day when CUPE National President Mark Hancock and CUPE National Secretary-Treasurer Candace Rennick will address delegates. CUPE Ontario will also welcome as keynote convention speakers Terry Melvin, International President of the Coalition of Black Trade Unionists, who will speak on Thursday; and Marit Stiles, Leader of Ontario's New Democrats, who will address convention on Friday.
Over the course of convention, delegates will also mark Injured Workers Day with a rally on June 1, and join the Ontario Federation of Labour's Enough is Enough rally on June 3.
"I am proud and grateful to spend these days alongside so many dedicated CUPE Ontario activists," said CUPE Ontario Secretary-Treasurer Yolanda McClean.
"At a time when we're asserting our rights and our worth more boldly than we have a long time, CUPE Ontario's convention will ensure that all voices are heard in the critical decision-making that will guide the work of our union in the days to come."
CUPE Ontario's convention takes place from May 31 to June 3 at Toronto's Sheraton Centre Toronto Hotel.