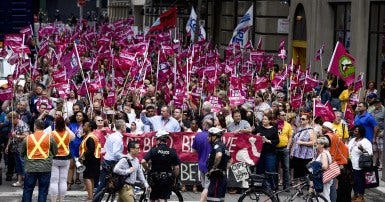 Toronto's financial district was shut down this afternoon by more than 1000 CUPE Ontario members from across Ontario, demanding that the government put the needs of working people and their families ahead of the corporate elites.
"We're here today to demand better from our politicians," said CUPE Ontario President Fred Hahn. "We cannot afford another government that puts the needs of corporations and their rich friends ahead of the needs of workers, our families and the public services we all need."
Speakers at the rally, all pointed to what is on the line in next weeks election. Several stated that voters do not have to choose between bad and worse when they cast their ballot, looking to the NDP as the only party putting forward a plan for all Ontarians.
"None of us can afford a Doug Ford government," said CUPE National President, Mark Hancock. "His plan to cut taxes for corporations and the rich and cut more than $6 billion a year from public services will guarantee significant service cuts and major job losses. This is not the Ontario we want to live in."
Equally disturbing to those packing the streets were the recent Liberal attack ads trying to spread fear of unions and their democratic rights.
"We have come to expect anti-union attacks by the Conservatives, but the Liberal's, in their moment of desperation, are clearly showing who they really are," said CUPE Ontario Secretary-Treasurer, Candace Rennick. "The Liberals are the party that sold off our hydro system to their corporate friends and now they're trying to vilify workers for standing up for fairer treatment."
"Unions play a critical role in our society – not just for those who are organized. Ontario's unions helped champion the campaign to raise the minimum wage and increase vacation, sick days and protection for all workers," said Hahn. "We are incredibly disappointed that in an act of desperation, the Liberal party has chosen to attack workers' Charter protected, human rights – a cornerstone of our society that exists to make sure things are fairer for working people."
With only a week until election day, the hundreds gathered left the rally determined to mobilize others in their communities.
"We will not let the politics of fear and greed win," said Hahn. "We deserve a government that understands and cares about the needs of Ontarians. We will do everything we can to help make that happen."