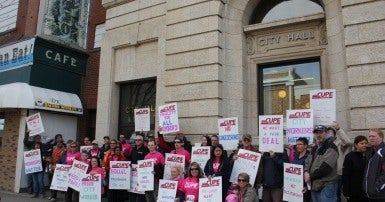 Yesterday City of Moose Jaw workers rallied at City Hall to call for a fair collective agreement.
CUPE Local 9 entered conciliation in November and has been trying to reach a fair settlement at the bargaining table.
Since entering conciliation, the employer has taken some of its concessions off the table, but it is still seeking serious concessions that will impact members' quality of life and is refusing to discuss monetary issues at this time.
Some of the main issues include: 
The employer is still looking at mandatory standby and adjustable scheduling, which will make a significant impact on members' quality of life.
Monetary items have not even been discussed yet at the table, and workers have been without a deal since 2014.
Local 9 members already have a bare bones benefit plan that needs investment.
The union has several outstanding proposals that it would like to see addressed, including protection against contracting out, the assurance that members will not be discriminated against when earning seniority, and the equal treatment of all members when required to work outside of regular hours and family friendly hours for all workers.
Local 9 president Stacy spoke at the rally about the important work our members do for our city.
"Our members fix and maintain roads. We provide sanitation, water, sewer, and emergency services. We test drinking water and connect our community with museums and library resources. We run ice rinks, swimming pools, parks, and playgrounds. We lead community programs and workshops," said Landin. "The work we do is of vital importance to the City of Moose Jaw. But the management in City Hall is trying to make life harder for us."
CUPE Saskatchewan president Tom Graham was on hand to offer his support to workers: "CUPE is Canada's largest union and we will stand by you. We hope this gets resolves at the bargaining table, but CUPE will stand by you if we have to fight this out on the picket line."
Moose Jaw city workers deserve a fair collective agreement. Please support the workers that help keep Moose Jaw running by sharing this article and contacting city council.