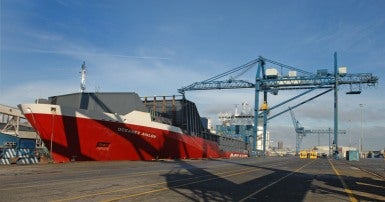 The Syndicat des débardeurs du port de Montréal will begin a general unlimited strike effective next Monday, April 26 at 7am, but indicated that it can be avoided.
"If the Maritime Employers' Association (MEA) doesn't want a strike, all it has to do is let up on its pressure tactics and the union will do likewise. No overtime strike. No weekend strike. It's straightforward. We want to return to the bargaining table," said Michel Murray, spokesman for CUPE local 375.
While the parties were still negotiating, the MEA announced on Thursday that it would make changes to the longshore workers' schedules starting next Monday. This was the second time in a week that the MEA changed the longshore workers' working conditions. These actions are worsening the conflict instead of resolving it.
"We don't want to hurt the Montreal economy.  However, we do want to exercise our fundamental right to bargain collectively," added Murray.
These employees have been without a collective agreement since December 2018. Discussions with the employer have bogged down on the issues of wages and life-work balance.
With close to 122,000 members in Quebec, CUPE represents the Syndicat des débardeurs du port de Montréal and longshore workers at ports in Quebec City, Trois-Rivières, Sorel, Matane, and longshore workers with Arrimage du Saint-Laurent (Baie-Comeau), for a total of some 1545 members. CUPE is also present in the following sectors: social affairs, communications, education, universities, energy, municipalities, Crown Corporations and public organizations, air and land transportation and the mixed sector. It is the largest union affiliated with the FTQ.