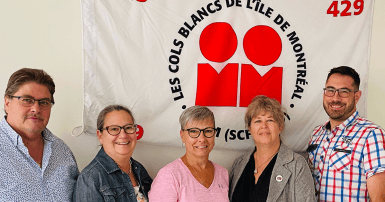 The largest union representing City of Montreal employees, CUPE 429, the inside workers union, has announced that a tentative agreement has been reached with their employer. Talks wrapped up on Thursday, July 8, following two years of negotiations. The new contract will set out the working conditions of close to 10,000 City employees.
"The negotiations weren't always easy due to the pandemic, but we managed to get things done with the help of a mediator. We're very pleased with the outcome and are anxious to present to the membership what the bargaining committee managed to accomplish," said Francine Bouliane, president of CUPE 429.
Union members will have an opportunity to vote on and ratify the agreement at a general meeting to be held on September 7, 2021.
"I salute the work done by all of the parties at the bargaining table. Details of the agreement will remain confidential until we have had a chance to disclose them to our members," said Bouliane.
The last contract the inside workers had with the City expired on December 31, 2018.