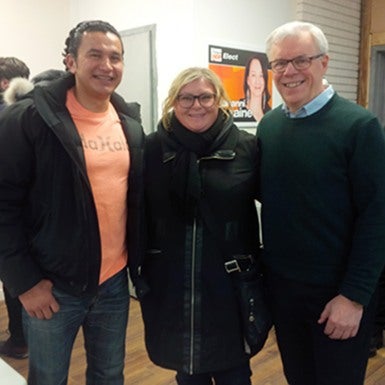 CUPE members have been turning out in numbers to support their NDP candidates across Manitoba. As the April 19 provincial election approaches, it is more and more clear just how much is at stake for workers.
The NDP has promised to continue improving the economy and investing in infrastructure and public services. The Conservatives have committed to half a billion dollars in cuts, would reinstate barriers to unionization and oppose CPP expansion. They are running on a record that includes tax cuts for the wealthy and deep service cuts, job rollbacks, and attacks on human rights.
Members from locals in Winnipeg, Dauphin, Thompson, Brandon, Gimli, Flin Flon and other communities have joined the call to volunteer on key NDP campaigns.
What's at stake for CUPE members in Manitoba on April 19? Everything!
Photo: NDP Fort Rouge candidate Wab Kinew, CUPE Manitoba President Kelly Moist and Premier Greg Selinger.