National President Mark Hancock brought the noise to the Co-op picket line in Regina on behalf of CUPE members all across Canada today.
Hancock was joined by labour leaders from across Canada, as well as CUPE Saskatchewan President Tom Graham and Secretary-Treasurer Judy Henley, along with union members and supporters from across the country, in a strong show of solidarity with members of Unifor Local 594.
Local 594 represents 760 workers at the Co-op Refinery. They have been walking picket lines in the freezing cold since they were locked out by their employer in early December, following the company's attempts to gut workers' pensions during bargaining.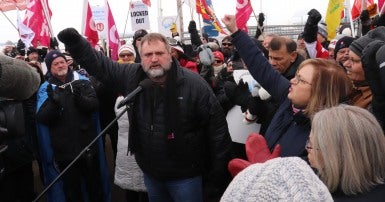 The dispute has become a flash point in the fight against employer-led attacks on good pensions in Canada and has rallied support from unions all over the country - especially following the arrest of Unifor National President Jerry Dias on Monday night.
"The fight for good pensions and a decent retirement is going on right here, right now. And CUPE will stand with you in this fight, because we know our pensions are under the same threat, and because it is what we do in the union movement. We stand with each other!" said Hancock.
Check out the full livestream of the event here.