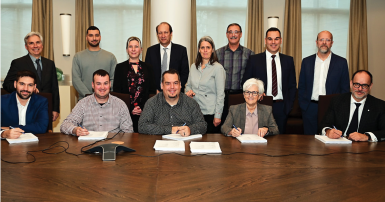 A major union at the Université de Montréal has signed a new contract. Last January, the members turned down a tentative agreement, but following a conciliation process that began in March, followed by a strike mandate in May and in June, they ratified the deal on the conciliator's recommendation.  
The 230 members of CUPE 1186, representing Université de Montréal maintenance employees, voted 91% in favour of a mandate that included pressure tactics up to and including a strike.
"Fortunately, we managed to get an agreement at the bargaining table. I would like to thank the members for their support. We are pleased to begin the new year with a collective agreement that is beneficial to these employees," says Yannick Tremblay, president of CUPE 1186.
The main issues between the parties concerned better life-work balance and wage catch-up at a time of labour shortages, particularly in specialized trades.
The union obtained a four-day work week for its members and improved vacation clauses. In addition, the university has committed to stud the job market to ensure that some trades are being adequately paid.