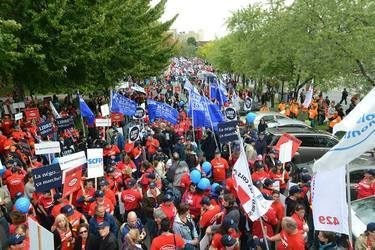 On Saturday, more than 25,000 people protesting the Couillard government's Bill 3 marched through downtown Montreal. Union and non-union, young people, seniors and families upheld the right to a decent pension for all. They denounced the consequences of the Bill, including the impoverishment of seniors and reneging on existing contracts.  


The march set off from La Fontaine Park at noon and headed for the office of Prime Minister Couillard on McGill College Avenue. The event was organized by the Union Coalition for Free Negotiation, which represents nearly all unionized municipal employees in Quebec: white collars, blue collars, police, firefighters, professionals and employees of transportation companies. 


The Coalition stressed that municipal pension plans are generally in good financial health. For the plans that still have issues, the unions are willing to continue negotiations on cost-cutting measures, a process already underway. 


"The size of today's demonstration shows that discontent is growing. This is a warning to the Couillard government that it's creating a disaster. Bill 3 would have incalculable consequences on the work environment and future negotiations in municipalities, as well as the social climate in general. And the many agreements concluded to date have demonstrated that we are already in solution mode. The government is at a crossroads: it still has a chance to take the path of compromise and appeasement," said Coalition spokesman Marc Ranger. 
"We are troubled by the government's attitude, claiming to establish social dialogue, but balking at every attempt at open discussion and alternative solutions. Instead of attacking the benefits of workers and retirees, the government should focus on the vast majority of Quebec's population without a definite pension plan," said FTQ president Daniel Boyer.


"During the election, Philippe Couillard talked about national reconciliation and social dialogue, but instead we're faced with Bill 3, a shameless assault on the remuneration and working conditions of all municipal employees. This is the first of the many austerity measures announced by the Liberals that will affect us directly. We will fight on every possible front to prevent them from pursuing this devastation," said CSN president Jacques Létourneau.


The Coalition comprises more than 65,000 white-collar and blue-collar workers, firefighters, police, professionals, and employees of transportation companies. It represents almost all unionized municipal employees in Quebec. Its demands are explained on the web site  librenego.com


The Coalition consists of the Canadian Union of Public Employees (CUPE-Québec) and its Municipal Sector Provincial Council as well as its Ground Transport Sector, the Fédération des employées et employés de services publics (FEESP-CSN), the Fédération indépendante des syndicats autonomes (FISA), the Fédération des policiers et policières municipaux du Québec, the Fraternité des policiers et policières de Montréal, the Association des pompiers de Montréal, the Regroupement des associations de pompiers du Québec, and the Syndicat des pompiers et pompières du Québec – FTQ.