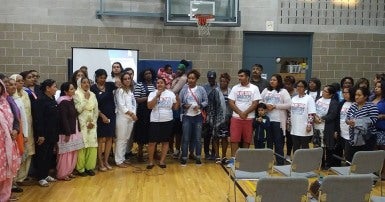 Following the closure of a well-known community agency serving four northwest Toronto neighbourhoods, more than 100 concerned residents, activists and labour unions last night called on the Wynne government to 'get the balance right' to ensure their neighbourhoods have access to the services they need, when they need them.
"We are calling on governments – particularly the Wynne Government – to do more than just ensure community agencies, like Doorsteps, have the resources to both administer themselves and deliver programming – it is imperative that community agencies can also access expertise that they may not have in-house," said Janet Prosper, Coalition Spokesperson, of the Doorsteps Neighbourhood Services Coalition, following an emergency community meeting held last night at the Domenico Diluca Community Centre.
The coalition formed following the closure of Doorsteps Neighbourhood Services earlier this month. Doorsteps provided a wide range of services to Northwest Toronto's Jane/Finch, Chalkfarm, Falstaff and Daystrom neighbourhoods, including after-school care, seniors support and help for newcomers to Canada.
"Doorsteps shouldn't have had to close, but the current funding and governance model community agencies operate under very often sets up small agencies to fail. When they do, governments more often than not simply refuse to intervene to ensure the agency's viability," said Prosper.
"Rather than deliver the services directly, governments instead provide financial support for community agencies like Doorsteps, but very often tie funding to specific programs, rather than supporting the agency outright. The pendulum has swung too far towards funding programs, without any regard for the agency's overall operations," she added.
Fred Hahn, President of CUPE Ontario, said the loss of Doorsteps "leaves a real hole in these neighbourhoods, and the onus is all three levels of government, which provide funding for services they would rather not deliver themselves, to get the balance right so that agencies like Doorsteps can deliver programming, administer themselves effectively, and access expertise so they can flourish."
He added that CUPE Ontario would support the coalition's efforts to protect services in the community, "because people in these communities have every right to expect that the services they need are there for them, in their neighbourhoods, when they need them."
Prior to closure, employees at Doorsteps were represented by Local 4772 of the Canadian Union of Public Employees (CUPE 4772).
The coalition sent invitations to several Toronto City Councillors, MPPs and MPs whose wards either encompass or are adjacent to Doorsteps' service area, as well as Mayor John Tory. None attended last night's meeting.
"It is very disappointing that no local politicians took the time to listen to hear how passionate people are about the services they depend on. Dozens of people spoke loudly and clearly last night about how Doorsteps impacts their lives in a positive way. We will certainly be working hard in the coming days to make sure their voices are heard," said Hahn.