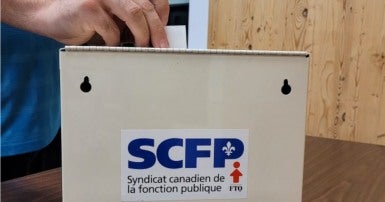 Another labour conflict is threatening a major port in Quebec. In addition to the longshore workers in Quebec City who have been locked out for six months, this time, it is the union representing longshore workers in Sorel-Tracy (CUPE 4333) who, at a general assembly meeting last week, unanimously voted in favour of pressure tactics up to and including an unlimited general strike.
The collective agreement of the 60 longshore workers expired on December 19, 2021. Negotiations began in June 2022, and in spite of the 15 bargaining sessions since then, the parties have been unable to come to an agreement.
Last January, at the union's request, the Federal Mediation and Conciliation Service (FMCS) appointed a conciliator. At a meeting she attended, the employer made a final offer to the union, which was presented to and rejected by the members at a general meeting on March 1.
Contentious issues concern non-monetary clauses, particularly work schedules. The current contract states that a regular work week is from Monday to Friday, with overtime to be worked on a voluntary basis. Port authorities want to review this clause and impose mandatory stand-by on employees.
This request has raised the ire of members, who are ready to go out on strike on May 9.