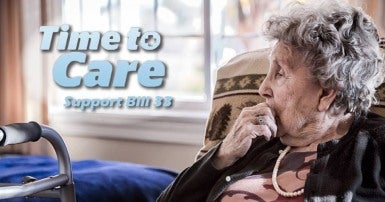 Hundreds of long-term care workers from across Ontario will be boarding buses before sunrise Tuesday morning, headed to Queen's Park to demand the Liberal government bring the Time to Care Act for final reading before the election.
"Our seniors living in long-term care are suffering, and the Liberal government needs to pass the Time to Care Act so that they get the care they need and deserve," says Julie Charlebois, a long-term care worker in Timmins for the past ten years. "Seniors are coming into long-term care older and frailer, with more complex health issues than they once did. We just don't have enough staff to properly care for them."
Canada has the lowest long-term care levels among countries with equivalent economies, and Ontario has the lowest in Canada. Bill 33 (The Time to Care Act) would legislate a minimum care standard of four hours of hands on care each day.
"It's almost like residents are on a conveyer belt. Staff have a check list of tasks that need to be done and they literally run from resident to resident checking off the list," says Charlebois. "We're not able to spend time with them to really listen to their individual worries and needs. This no way for our seniors to spend their final years."
Staff have 5-7 minutes to help each resident with all their morning needs – getting out of bed, washing, dressing and help with the bathroom. Staff often don't have time to help residents walk to the dining room for meals which is leading to a faster loss of mobility.
"One of the hardest parts of our job is not being able to come when a resident calls for help to the bathroom. Would you want your mother to ring the call bell to get help to the bathroom and then soil themselves because no one was able to get there in time? It's horrible, but it happens and it's not right," says Charlebois. "We're all trying our best, but the standards for our elderly in this province are just sad. These are the people who worked all their lives building and caring for our communities – they deserve to live with dignity in their final home."
Bill 33 received all party support at second reading in November but since then the government has refused to bring it forward for final reading.
"Our seniors need action now and we're going to keep pushing until they get a real four-hour standard of hands on care," says Charlebois. "That's why we're heading to Queen's Park. The Liberals have to make the Time to Care Act law before the spring election."