Stephen Elliott-Buckley | CUPE Research
Over the past dozen years seniors' care in BC has taken a hit. The decline started in 2001, when a right-wing Liberal government was elected. From that day it has waged war on the public sector and broken its promises on seniors' care, significantly destabilizing direct residential care staffing (registered nurses, licensed practical nurses and care aides).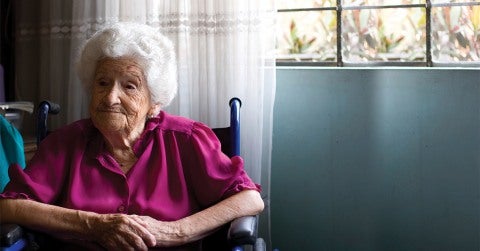 Despite vowing to build 5,000 new non-profit residential care beds by 2006, the BC Liberals oversaw the loss of 804 residential care beds by 2008. In their place came 4,393 new assisted living units, along with lower support and staffing levels.
The BC Liberal government further undermined seniors' health care delivery in 2010 by raising residential care fees from 70 to 80 per cent of residents' after-tax income. It claimed that the move was necessary in order to provide more care hours, but in reality it has meant in part an increase in residential care aides doing housekeeping and food service work.
In addition, BC hospitals have been crippled by "bed blockers", Alternate Levels of Care patients in hospitals who in fact need the type of care provided in residential care facilities, costing an estimated 4 to 6 times as much as the rate of many residential care per diems around the province.
The most serious threat to seniors' care comes from privatization, an approach that has seen a dramatic rise in BC in recent years. In 2000, only 24.4 per cent of residential care beds in BC were in for-profit sites. By 2008, that number had increased to 30.9 per cent and has continued to grow ever since.
Extensive research from the USA, tracking over 5,000 facilities, indicates that in order to maintain residents' level of health direct care staffing levels should be set at 4.1 direct care hours per resident per day. To improve residents' quality of life, the level should be 4.5 hours per resident per day.
Virtually no residential care facilities in BC have achieved the basic standard. In fact, levels have been well below. During the 2008-2009 fiscal year, the average direct care staffing level for all sites in BC was 2.81 hours per resident per day. Publicly-owned and operated facilities had the highest staffing levels.
To improve access to long-term care and to help bargain better working conditions, we are researching the following questions:
How many long-term care beds are there across Canada? How many are in publicly-owned, non-profit and for-profit facilities? By how much do the per diems vary among the types of facilities?
How much do staffing levels vary across the country and by type of facility? How many sites have contracted out staff?
How many publicly funded end-of-life care beds are in each province? Are they sufficient?