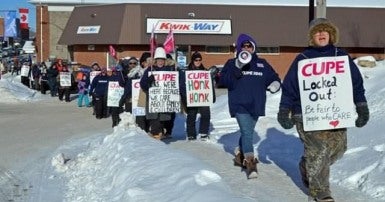 Union negotiators are disappointed that little progress was made yesterday towards ending the lockout of frontline, administrative and support staff at Nipissing and Parry Sound children's aid society (CAS). However, they expressed hope that both sides would soon return to bargaining to reach a deal that protects child welfare services in the north.
"More than anything else, workers want an agreement that ensures they can keep children and youth safe in our communities," said Fran Bélanger, national representative for the Canadian Union of Public Employees (CUPE), which represents workers at Nipissing and Parry Sound CAS.
The union's bargaining team left the door open for a return to talks, emphasizing that workers are eager to get back to the vital work of supporting vulnerable children and families in their communities.
"We had some productive discussions yesterday, but we just scratched the surface of the issues we need to resolve. We're hoping that the employer will agree to go back the table soon and end the lockout, so that CUPE members can get back to delivering the important services that safeguard children's welfare in our region," said Bélanger.
Yesterday marked the parties' first return to the bargaining table since mediation talks broke off on December 20 and the lockout began on December 23.
As the lockout goes on at Nipissing and Parry Sound CAS, CUPE members will continue their "Pay It Forward" campaign as a thank-you for the generous community support they receive each and every day on the picket lines.
That support will be evidence tomorrow as the president of the Ontario Federation of Labour, Chris Buckley, visits the picket line and addresses locked-out workers.