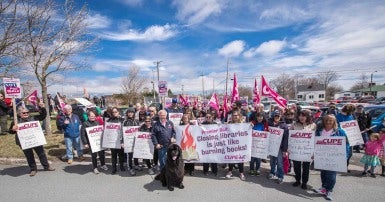 CUPE members are asking how a long overdue report which came at a great cost to taxpayers, fails to provide the one recommendation it was ostensibly commissioned to deliver – whether or not to close public libraries in 54 communities in Newfoundland and Labrador. There are no specific recommendations regarding the closures; rather, there are vague observations about establishing location parameters to decide which libraries should close or be amalgamated.
The provincial government finally released the long-awaited EY report on the review of library services late on Thursday, May 18, 2017.
"Our members are living with an axe hanging over their heads and have not been given a reprise. Instead, they are expected to wait longer to discover the fate of their employment," says Dawn Lahey, president of CUPE Local 2329. "This is extremely upsetting to me and to my members. It is morally wrong to expect people to live with this kind of stress for such an extended period."
The report also endorses further consultation, presumably to be conducted by EY consultants, and at the expense of taxpayers and the people who rely on public library services.
The report recommends consultations take place with the provincial government and municipalities, including Municipalities Newfoundland and Labrador, with library funding to be shared by the province and municipalities.
"The union will request an audience with Minister Kirby to discuss this report and we hope we'll be able to work with the minister and the public to strengthen our valued public library system," says Lahey.
The report recognizes that the system is drastically underfunded and understaffed. It does not provide a place for the contribution of CUPE 2329 members in the decision-making process regarding policy initiatives or funding. It places greater weight on the contribution of "professional librarians" than on the hard work of the people who provide frontline services.
"There are some recommendations contained in the report we can agree with; however, there are few concrete recommendations arising from this exercise," says Dawn Learning, CUPE national representative. "While the report contemplates library closures and if employees should retain their positions, it does not make any recommendations regarding which libraries should remain open."
"There is a complete disregard for CUPE's involvement in the library system and the provision of library services," says CUPE Newfoundland and Labrador President Wayne Lucas. "Staffing recommendations include hiring a full-time head librarian and increasing the number of professional librarians, but there is no mention of hiring more frontline library workers. Increasing the number of professional librarian positions in the system will not enhance library services to library patrons."
"Frontline workers are disappointed in the results of a process that did not include them and does not make any provision to include them in recommendations and policy revisions going forward, says Lahey. "Library workers deserve better – especially those workers who have been waiting for an extended period to find out if they will keep their jobs."