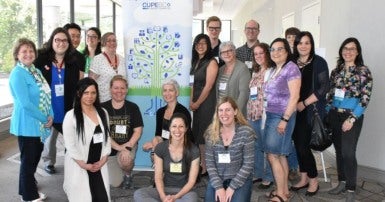 Library workers play an important role in preserving democracy and advocating progressive change in our communities. That was one key message arising from this year's BC Library Conference (May 8-10), hosted by the BC Library Association with platinum sponsorship by CUPE BC.
This year's conference, themed "The Future by Design," invited the library community to explore the intentionality of its work in helping shape the future of our communities and society. From promoting reconciliation with Indigenous peoples to providing safe haven for the impoverished, libraries and their workers exemplify the values of an inclusive and compassionate society, CUPE BC General Vice-President Karen Ranalletta said at the closing plenary.
"Library workers have always been at the heart of progressive change and democracy," said Ranalletta, noting that B.C.'s first ever Minister of Mental Health and Addictions, Judy Darcy, was a library worker before she became CUPE National president in 1991—the only library worker to have led a national trade union.
A history of activism
In 1974, CUPE Local 2950 at UBC—Ranalletta's local—became the first union in Canada to negotiate maternity leave top-up: "a benefit that not only changed the lives of our members but has benefitted families across the country." (As she spoke, Ranalletta asked a fellow CUPE delegate, long-time UBC library worker and current Local 2950 Second Vice-President Susanne Lester, to take a bow: it was Lester who had tabled that proposal forty-five years ago.)
The CUPE BC general vice-president also shared the union's excitement at partnering with the BCLA on the Summer Reading Club.
"For us, it's not about marketing or branding but about supporting a really great initiative that fosters learning and a life-long love of reading in our communities," she said of the program, which saw 163,000 children in 200 B.C. communities participate last year.
"It also connects us together and is a great opportunity to celebrate the work of our members."
Making communities better
In his remarks at the closing plenary, B.C. Education Minister Rob Fleming praised delegates for their work to make communities better.
"Libraries are amongst our most trusted institutions. They foster inclusion and reduce inequality, poverty, and barriers to knowledge, skills and training," said Fleming, adding that he was pleased with how libraries have responded to the Truth and Reconciliation Commission's calls to action.
In her keynote address, designer activist Emily Pilloton shared four examples of projects by her company, Project H, that democratized public space in a manner that might be applicable to public libraries. One was a farmer's market pavilion in a small community in North Carolina that was designed and built by students.
"Not only are kids capable of infinitely more than we think they are; they're also great moderators and leaders in bringing people to the table," said Pilloton. "The students were the ones who kept everyone part of the conversation and made sure they were invested."
Libraries as cultural spaces
Earlier in the conference, a "hot topics" panel discussion on libraries and intellectual freedom explored the struggle to reconcile the often conflicting values of freedom of speech and the desire to create safe and inclusive public spaces.
The panel included CUPE 1004 member and former Vancouver Public Library board chair Kyla Epstein and CUPE National Director of Research, Job Evaluation and Health & Safety Archana Rampure.
Speaking on reconciliation, Epstein noted that libraries are constantly making decisions that influence culture—from what is bought for collections to how the library space is used.
"The process of coming to us [the board] and then us voting and saying, 'Go do great things,' it's a colonial practice to make that very decision," she said. "So what would it look like if governance itself shifted the board's idea of how to do the work? The very act of changing policy would look different and be different."
Rampure noted that better representation, or striving to "centre" populations normally marginalized, could make a difference.
"I'm always struck by how rooms of administrators don't always reflect the communities they're serving. Who you have as your staff has an impact on what policies are brought to the board," she said.
Nearly 4,000 library workers in B.C. are CUPE members working in school, public or academic libraries.
For photos of the conference, see the gallery.