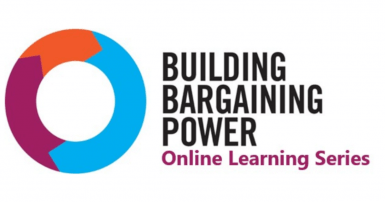 Want to build bargaining power in your local? Check out CUPE's Online Bargaining Program.
This series of resources and live online workshops will help your local build its power at the bargaining table to get the best deal for your members.
Members of bargaining committees, mobilizing committees and strike committees will all benefit from this program. Learn about the bargaining cycle, how to prepare for it and practice bargaining skills.
The program includes a toolkit to help you launch your planning. Then you can track your progress across the program's workshops:
Team Building
Preparing for Bargaining
Role-play
Mobilizing for Bargaining
Strike Preparation
Strike Planning Session, and
Picket Captain Training
Your members deserve the best collective agreement they can get. With CUPE's Online Bargaining Program, you'll build your power and win.