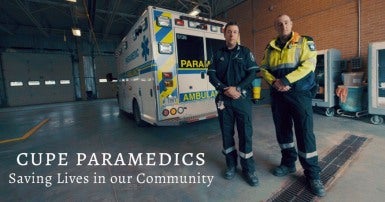 Region of Waterloo Council must address chronic understaffing of its Paramedic Services, according to Local 5191 of the Canadian Union of Public Employees (CUPE 5191) which represents the Region's 220+ paramedics.
"It's a public safety issue," says Chris Sutton, representative for CUPE 5191. "There are times when there are no ambulances readily available for the entire Region of Waterloo. Our paramedics frequently work 15 to 16 hours on a 12‑hour shift. They continue to answer calls even when their shift should be over or when they should be having a break. Something has to change. Our paramedics are people and not machines. They need to eat, too."
In 2016, Paramedic Services experienced 1333 code yellows (situations where there are three or fewer ambulances available to take a call) and 212 code reds (situations where no ambulances are available). This is a very dangerous situation. Residents, even those in need of emergent care, can be left waiting for medical assistance. As part of the Master Plan for 2017, the Region of Waterloo had promised to increase the number of paramedics and ambulances, but these promises have already been scaled back and continue to leave the Region of Waterloo well behind other municipalities in the amount of service they provide. There has been no promise to meet the increased staffing needs identified for 2018 and 2019.
"When we look at the hours of service for other cities in Ontario, the average is 355 hours per 1000 residents. Currently, in the Region of Waterloo, we are at 199 hours. If we get the increases we've been promised, we might be up to 222 hours, still far below other municipalities. That's just not good enough," Sutton explained. "The Region of Waterloo is growing rapidly, residents deserve a readily available Paramedic Service with quick response times. Paramedics are frontline medical professionals who require mental and physical alertness to address life and death situations. This includes patient assessment, treatment and the same navigation of ambulances on the Region's crowded roads, in all weather conditions, to get to the hospital. Denied breaks and 12‑hour shifts routinely extend up to 16 hours, putting both the patient and the paramedic at risk. Our paramedics need to know when their shifts end, instead of having another extended shift overrun. We need to raise staffing levels so that paramedics can clock out on time knowing that there are ambulances ready to answer the next call."
The union and the Region of Waterloo Paramedic Services are currently negotiating a new contract for the Region's paramedics and logistics and support staff. Members of CUPE 5191 voted on Friday to authorize the union to take strike action if an agreement cannot be reached that addresses concerns over rest breaks and shift overruns. "Workers cannot continue to shoulder the burden of this under-resourced service. Our paramedics and the public are being put at risk." Sutton concluded, "The residents of this Regional Municipality must ask how the Region has been allowed to fall so far behind and what can be done to bring service levels up to where they belong."