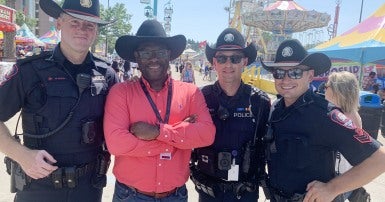 When Jason Copping was Minister of Labour, union leaders like Rory Gill talked to him frequently. But now that Kaycee Madu is in charge, unions are shut out.
The President of CUPE Alberta is steaming that Minister Madu is refusing to even arrange a phone call with him about the contentious and complicated Bill 32.
Rory Gill says he tried to arrange a meeting or phone call with Madu, to follow up on a discussion that began when Jason Copping was minister. However, he's been informed by the Minister's office that they won't even consider a meeting for several months.
"CUPE doesn't like the UCP, and the UCP doesn't like CUPE," said Gill. "But Ministers have a duty to talk to their stakeholders."
"Jason Copping gave me his cell phone number and we talked and texted often.  Tyler Shandro did the same when he was Minister. But Kaycee Madu doesn't want to have the difficult conversations."
Gill says his union is working hard to be ready for the implementation of Bill 32 on August 1st. But the regulations are complex and subject to multiple interpretations.  The Bill regulates union spending on 'core' and 'non-core' items and allows members to opt-out of the portion of dues that go toward 'non-core' activities like charitable donations.
"Minister Copping acknowledged that there were items open to interpretation and promised to get back to me with some resources to allow CUPE to remain in compliance," said Gill. "Madu will not follow up, or even agree to send an official to discuss these matters with us."
"Kaycee Madu has two phones. He knows how to use them to call law enforcement and try and get out of a traffic ticket. How about the Minister of Labour actually agree to call a few union representatives?"