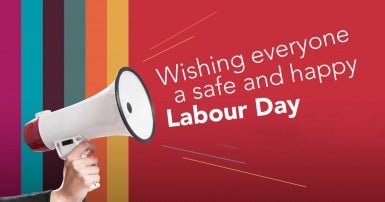 The past six months have revealed just how indispensable our public services are. And this year, as we approach Labour Day, Canadians have an even deeper appreciation of the value and importance of the services our members provide in communities all across the country.
From our health care workers who looked after the sick, to the social workers and EMS workers who looked after the vulnerable, to the municipal workers who kept our taps running and our communities clean and safe, to the transit workers who got essential workers to work on time, to the education workers who found new ways to support their students, we want to salute and thank you and all of our CUPE members across Canada who have done their part in the fight against COVID-19.
Even as the pandemic wrought havoc across the globe, CUPE remained on the frontlines, standing up for the rights of workers. We fought for, and achieved, better income supports for people who lost their jobs. We fought for ten days of paid sick leave so that no worker is forced to go to work sick and risk infecting others because they couldn't afford to stay home without a paycheque. We fought for safer workplaces, and proper personal protective equipment.
And we launched a national campaign, Fix Long Term Care Now, which calls for an overhaul of our current patchwork system of care, so that we're prioritizing quality care over profits, and a fair wage for care aides. Long-term care should be treated like hospital care – with national standards and secure funding – by bringing it under the Canada Health Act.
Even through these difficult and unprecedented times, our job as Canada's largest union does not change. And on this Labour Day, we pledge to continue defend workers' rights, and forging a path towards an economic recovery that puts people, our communities, and our planet first.
The pandemic has exposed systemic discrimination in Canada, and how the most marginalized in our society have been most impacted by the virus. The statistics already show that racialized people were far more likely to get sick, and that women were far more likely than men to lose their jobs. CUPE will continue our fight for equity and the human rights as we work towards recovery.
Two million people in Canada have lost their jobs because of the pandemic, and CUPE will be there to fight for good-paying, green jobs that will last in the new economy. We will be there to fight for a stronger social safety net and income supports for people when they need them.
We will fight tooth and nail against governments who use this crisis to attack workers rights and impose austerity measures on critical public services.
And we will be there to strengthen our systems of care, by fighting to bring in universal, public long-term care, pharmacare, and child care.
On behalf of our 700,000 members across Canada, we wish you a safe and happy Labour Day.
In solidarity,
Mark Hancock
National President
Charles Fleury
National Secretary-Treasurer