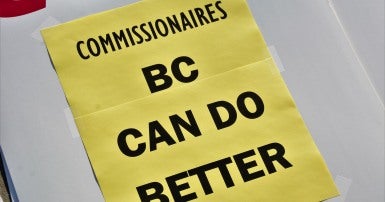 CUPE 338 members who work as jail guards at the Kelowna RCMP Detachment have served 72-hour strike notice, putting the union in a legal strike position.
The 17 jail guards are employees of Commissionaires BC and the union has been attempting to negotiate a first collective agreement on their behalf for more than six months.
"Jail guards in Kelowna work in a high stress environment and face physical violence and verbal abuse daily," says CUPE National Representative and lead negotiator Harry Nott. "While we are close to reaching a settlement with Commissionaires BC, our members have clearly communicated that a fair wage increase is long overdue and cannot wait. Recruitment and retention issues need to be addressed, and a fair wage is a significant piece of resolving this key issue."
Nott says that the union has made every effort to resolve this dispute without resorting to strike action, including numerous bargaining sessions and mediated discussions with a representative from the BC Labour Relations Board.
"Our members are very committed to the work they do, and they realize that taking strike action will have a significant impact on services," says Nott. "However, at this point we feel this is our last option."
Jail guards voted to join CUPE earlier this year, and negotiations for a first collective agreement started shortly after that in late spring. The main outstanding issue to be negotiated is wages.
Kelowna jail guards make, at minimum, five dollars less per hour than other municipal jail guards in nearby and similar sized communities, and according to Nott if working full time, jail guards are barely living above the poverty line. 
CUPE 338 represents 1,000 members who provide vital community services to Kelowna area residents and businesses.
Seventeen of those members work at the Kelowna RCMP detachment as jail guards and include services including overseeing prisoners, assisting with prisoner searches and cell searches, organizing meals, recording prisoner activity, finger printing, and dispensing approved prescription medications to persons in custody.