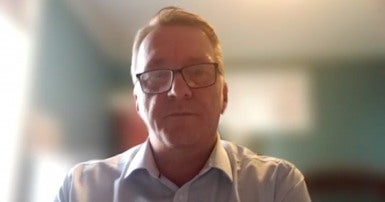 These past two years have highlighted how important workplace health and safety is, and how much our union relies on our health and safety activists to be strong and assertive. This year's Health and Safety Award recognizes the work of Brother Keith Fiering of CUPE 79.
Keith has been a leader in health and safety for over 11 years. Health and safety is not just a matter of work for Keith, but something he truly believes in and is dedicated to. He fought relentlessly throughout this pandemic to help keep 26,000 CUPE 79 members, and the citizens of Toronto, safe. Keith enjoys the opportunities to provide guidance and advice to workers and employers. He appreciates addressing issues with health and safety committees, union representatives and managers.
"The health and safety of our members should be our main priority, and always will be. As health and safety reps, I would like to encourage everyone to keep fighting to have your voice heard. Work to ensure that your local has a consultation process with health and safety at all levels," said Fiering.
CUPE's National Health and Safety Award is presented to a leader who has made a significant health and safety contribution, achieved important victories and improved workplace conditions.