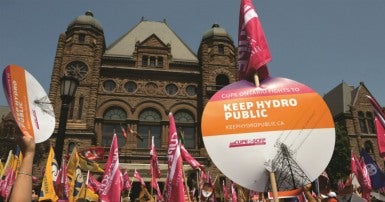 Craig Saunders | CUPE Communications
Hundreds of CUPE members from locals across Ontario marched up University Avenue in Toronto one sunny day in late May. At the head of the march, CUPE leaders carried a banner reading "Keep Hydro Public."
The provincial Liberal government spent months laying the groundwork for what has become the most criticized privatization scheme in the province's history.
Hydro One is a public entity that owns the electricity grid in Ontario – the high voltage transmission wires and much of the local distribution. Although the Liberals didn't campaign on the privatization of the province's electricity system, they moved decisively once they won a majority. The Liberal government enga­ged Ed Clark, a former banker, who used language like "asset recycling,""unlocking value," and "broadening ownership," and proposed the sale of Hydro One as a way to fund infrastructure spending.
"We are here to tell the Liberal government that Ontario opposes this sell-off," said CUPE Ontario President Fred Hahn, to an enthusiastic crowd that included a dozen labour and community groups. "Hydro One belongs to all of us, it is not theirs to sell."
CUPE Ontario, with significant financial support from CUPE National has played a lead role in buil­ding the growing movement opposed to the sale. Since the government's announce­ment, our union has worked, often with partners in the Keep Hydro Public coalition, to raise political pressure. Polling shows that three out of four Ontarians oppose hydro privatization. In advance of community meetings in Oshawa and Sudbury, there were stunning levels of opposition: between 84 and 89 per cent. CUPE Ontario will continue holding community meetings through June and July to step up pressure.
Why is the public overwhelmingly against the hydro sell-off?
For most people, it's because they know that their electricity bills will go up, as they have everywhere hydro privatization has taken place. For others, it's because the Liberals have a horrible track record with privatization and P3s. Headline after headline has highlighted successive scandals, culminating in a sca­thing auditor general's report last December, which said public-private partnerships had needlessly cost Ontarians $8 billion more than public projects.
But there's more to it than that.
To make the sale legal, the Liberals were forced to re-write the very laws they brought in to protect Hydro One from privati­zation a decade ago. A legal opinion from Sack Goldblatt Mitchell pointed out that the legislative changes also immediately exempt Hydro One from all public oversight – an opinion backed up by an open letter from Ontario's official watchdogs, including the provincial ombudsman, the auditor general and the integrity commissioner. While the Liberals say they plan to keep a 40 per cent stake in the company, they are giving up the majority of seats on the board of directors. In other words, the public will no longer have control or accountability.
The sale also doesn't make financial sense. A report by former TD Bank Chief Economist and Secretary of State for Finance, Douglas Peters, states the government will lose more than $338 million in revenues every year. With borrowing rates for governments at record lows, this means selling the asset to pay for infrastructure will end up costing more than borrowing would.
CUPE continues mobilizing across Ontario and exploring legal options, and will step up pressure to stop the sale, just as we did in 2002.