Janet Szliske | CUPE Communications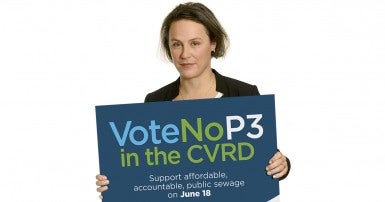 For CUPE 556 President Karen Garrett, an activist's motivation for protecting public water and wastewater is a no-brainer: all services provided by a municipality should be public. 
When Karen's local learned in 2016 that the Comox Valley Regional District (CVRD) was planning to use a public-private partnership (P3) to provide sewage treatment, members knew they needed to fight the project with everything they had. 
The CVRD held a referendum seeking public approval to go ahead with the P3 project. There were a lot of unknowns, including who the provider would be and what moving from a septic tank system to a wastewater treatment plant would really cost residents. With only six weeks before the vote, CUPE 556 had to act fast.  
"We wanted to educate homeowners on the fact that if the facility was being operated and maintained by a private company, that company would be unaccountable to taxpayers," said Karen. 
With the support of CUPE National, Karen Garrett and others developed a campaign focussed on educating the public on the consequences of the P3 project. Radio ads, community-wide mailings and signs were some of the many tools used to mobilize the public. A community group opposed to the project helped the local by putting up signs. 
CUPE members knocked on more than 1,500 doors in the Vancouver Island communities of Union Bay, Royston, and Kilmarnock, talking with residents about the options. 
They kept the discussions simple: if there was a $100,000 surplus at the end of year and the service was publicly run, that $100,000 would stay within the service area and get spent to benefit the community. With a private company doing the work, that surplus could go to shareholders.  
The message to support affordable, accountable, public sewage resonated with the public. 
In the end, residents were very clear about what they didn't want. The Comox P3 sewage treatment project was defeated, with 75 per cent of residents turning it down. 
"Our members are committed to providing the very best services they can to our community. You can really see the difference when comparing a private contractor clearing roads to our municipal workers doing their work," said Karen, commenting on her members' work clearing snow in the Comox Valley this winter.  
"It's the day-to-day things that families rely on where you can really see a difference."