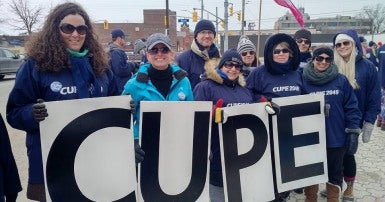 Workers locked out of their jobs by Nipissing and Parry Sound Children's Aid Society are appalled – but not shocked – to learn that last year CAS Executive Director Gisele Hebert was given close to $10,000 as a salary increase.
The raise brought Hebert's total compensation package up to $157,441.87 – more than double the wage of the average child welfare worker at the society.
"The news comes a day after our bargaining talks failed, so the irony of it isn't lost on any of us," said Debbie Hill, president of Local 2049 of the Canadian Union of Public Employees (CUPE).
"Our employer has told us time after time that our contract proposals jeopardize the sustainability of the CAS. But obviously there was no similar concern last year when it came to management's compensation.
"Yet 2016 was the same year that Nipissing and Parry Sound CAS refused to agree to a deal with its workers; the same year it locked us out; and the same year they stripped vulnerable children and families of the support they need."
Today in North Bay, CUPE 2049 held a news conference in which union leaders demanded that the ministry dissolve the society's board of directors and take over its operations.
The government's database of public sector salaries for 2016 is available via the following link: https://www.ontario.ca/page/public-sector-salary-disclosure-2016-all-sectors-and-seconded-employees.