Clay Suddaby | CUPE Communications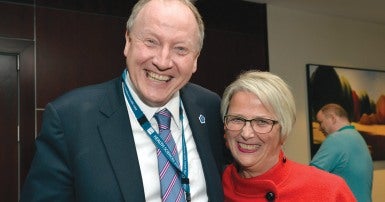 When new B.C. Premier John Horgan unveiled his cabinet on July 18, it was no surprise to see New Westminster MLA Judy Darcy among the 11 men and 11 women taking on leadership roles in the new government. As many CUPE members will know, Darcy served as CUPE's National President from 1991-2003, and later served as business manager of the Hospital Employees' Union from 2005-2011.
Darcy was appointed to be the first cabinet minister to lead the new Ministry of Mental Health and Addictions. The Horgan government has been widely praised for combining the issues of addiction and mental health into a single ministry, as the two issues are often linked.
The ministry was established in order to focus government resources on these twin challenges – combatting and solving the opioid overdose epidemic that has seen more than 1,100 overdose deaths in B.C. in the first nine months of 2017, while at the same time modernizing and improving the province's mental health services.
In his ministerial mandate letter to Darcy, Horgan outlined his expectations: "In your role as Minister of Mental Health and Addictions I expect that you will make substantive progress on the following priorities:
Work in partnership to develop an immediate response to the opioid crisis that includes crucial investments and improvements to mental health and addictions services.
Create a mental health and addiction strategy to guide the transformation of B.C.'s mental health care system. As part of this strategy, include a focus on improving access, investing in early prevention and youth mental health.
Consult with internal and external stakeholders to determine the most effective way to deliver quality mental health and addiction services."
"As the Minister of Mental Health and Addictions, I am truly touched by the stories that brave people shared with me about their struggles with mental illness," Darcy said in a statement. "One in four British Columbians will deal with a mental health issue in their lifetime. Many people suffer in a dark silence, a silence that exists because of shame and judgement, instead of talking openly about this illness."
A wide range of CUPE members in B.C. deal with the overdose crisis on a daily basis. Members of CUPE 1004 and 1936 who work at the Portland Hotel Society's facilities in Vancouver's Downtown Eastside (and Victoria)—including Insite, the first supervised injection site—have helped save countless lives. Ambulance paramedics in B.C. (CUPE 873) are often first on the scene of suspected overdoses, and the massive growing volume of such calls is taking a serious personal toll on many paramedics. In addition, CUPE members working in municipalities, community centres and libraries all over the province also frequently deal with suspected overdoses.
"Thousands of British Columbians have lost family members, friends, loved ones and coworkers to this epidemic of opioid overdoses," said CUPE BC President Paul Faoro. "I'm confident that the new government's approach will help prevent additional deaths, and I'm particularly confident that Judy Darcy is the best person to take on this important work."