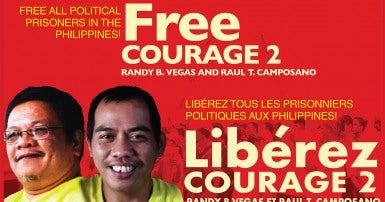 COURAGE is an apt acronym for the Confederation for Unity, Recognition and Advancement of Government Employees (COURAGE) the largest labour confederation in the Philippines.
Randy Vegas and Raul Camposano are two organizers in the Philippines with COURAGE. They were abducted and have been detained since December 2012, for asserting their human rights and fighting for workers' rights.
"It is hard to believe that President Aquino III has turned a deaf ear to the unjust imprisonment of Randy and Raul. At his inaugural address he promised "complete justice for all." Yet his government has failed miserably in its human rights obligations," said Global Justice committee member Betty Valenzuela.
COURAGE with over 200,000 members is pushing hard against government corruption and is leading campaigns against the privatization of public services.
"Where many governments have failed, unions have succeeded. CUPE has been steadfast in our solidarity work with COURAGE, and in our struggle to free Vegas and Camposano. Solidarity has no borders," said Valenzuela.