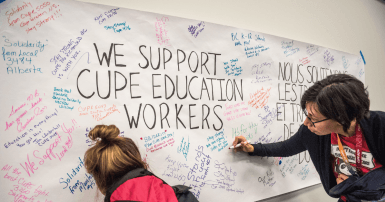 School custodians, trades, and mechanics represented by CUPE 2972 and the Interlake School Division in Gimli, Manitoba have ratified a new collective agreement.
"Custodians, tradespeople, and mechanics have been critical throughout the pandemic in helping keep our schools safe and running," says Lee McLeod, CUPE Regional Director.
"The agreement between CUPE 2972 and Interlake School Division is the second school support staff contract that defies the Pallister wage freeze and includes raises in line with those agreed to by school divisions and the Manitoba Teachers' Society. We want to thank the Interlake School Division for their leadership in reaching this agreement."
Wage increases are in line with recently negotiated teacher's agreements and are retroactive:  1.6 per cent in 2019, 1.4 in 2020, 0.5 in 2021, and a cost-of-living adjustment (COLA) in 2022.
The agreement between CUPE 2972 and Interlake School Division helps set a pattern for school support staff in Manitoba, following CUPE 3164's similar wage settlement at Evergreen School Division announced on June 8, 2021.
"The Pallister government has done everything they can to stop school support staff from negotiating fair contracts, so we are proud that CUPE support staff are leaders at the bargaining table".
CUPE 2972 represents approximately 45 school support staff at the Interlake School Division, including custodians, trades, and bus mechanics.