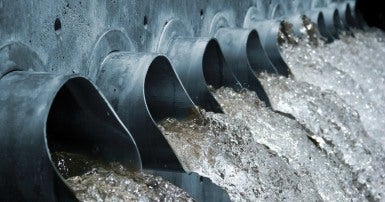 The Canada Infrastructure Bank (CIB) is expanding its privatization plans to include municipal water and wastewater facilities. The bank recently announced its support for a public-private partnership (P3) in a small Ontario community, calling the move "innovative financing."
In a release supporting the CIB announcement, federal infrastructure minister François-Philippe Champagne praised the bank for advancing a "new partnership model."
There's nothing new about federal programs and institutions that try to make P3s more palatable, especially to smaller municipalities. In this case, the CIB will subsidize the borrowing costs for corporations bidding on the 20-year deal to design, build, finance, operate and maintain the Township of Mapleton's existing and new water and wastewater facilities.
The bank is offering to lend the private sector money at a lower rate than corporations could get on their own. Details about the loan terms are blacked-out in public documents about the deal.  
The winning consortium will get a secure stream of profits from operating and maintaining the township's systems for the next two decades.
Bank support isn't free money
Municipalities, especially rural and remote communities, are strapped for cash, and have limited sources of revenue. But the CIB's approach isn't free money. P3s lock municipalities into inflexible and expensive contracts. That includes paying back the CIB loan, as well as the long-term costs of for-profit operation and maintenance will need to be built into water and wastewater rates and charges.
PriceWaterhouseCoopers (PwC) presented township council with a business case that recommended the CIB's approach. PwC is one of the "Big Four" consultants that play a leading role in assessing and facilitating P3s.
The business case didn't review all options, including the possibility of federal or provincial grants (which would not need to be repaid). Other possible sources of funding – not financing – include the Federal Gas Tax Fund, which is meant to fund exactly this type of project. There's also cost-shared funding available through the federal Investing in Canada Plan, and the Federation of Canadian Municipalities' Green Municipal Fund, which recently got a $1 billion boost from the federal government.
Instead, the business case uses a lot of the standard tricks to make privatization look like a better deal than staying public. CUPE's guide for municipalities considering P3s documents and debunks many of these tactics.
Low-cost loans a better option
The CIB could have offered a low-cost loan directly to the township. Since the Liberals first introduced the CIB, CUPE has been calling for this bank of privatization to be converted to a public bank that supports local governments with low-cost financing.
The CIB's mandate is clear. It's trying to break new ground in a sector where there are very few P3s. In 2016, Statistics Canada reported that municipal and regional governments owned 3,400 water and wastewater facilities. Fewer than 20 municipalities have privatized their systems through some form of P3. The bank is zeroing in on the smallest communities, and is using Mapleton township as a pilot project.
In recent years several smaller communities have taken back control of their water or wastewater systems, or are considering ending private operation and maintenance, including Okotoks and Taber, Alberta. Both communities ended contracts with EPCOR – a member of one of the groups of companies short-listed to bid on the Mapleton project.
This project is a sign there could soon be more water privatization in our communities. All CUPE members should be on alert. Check out our list of 10 questions municipal officials should ask if the CIB comes calling, and share it with your local elected officials.