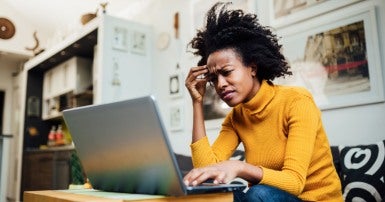 Want to know more about the Canada Infrastructure Bank or ask a question about its privatization plans? The bank isn't making it easy.
The Canada Infrastructure Bank is hosting its annual public meeting this Friday at 4 p.m., but hasn't done anything to actually invite public participation. Inexplicably, the event will be pre-recorded, a further blow to accountability and transparency when the pandemic has made live online meetings completely normal. In fact, it's hard to call what's taking place a meeting at all.
Previous annual public meetings have done the bare minimum to be interactive and participatory. This year's meeting drops even that pretence. When CUPE asked about the format, we were told the meeting will feature pre-recorded remarks from CEO Ehren Cory and Board Chair Tamara Vrooman. When CUPE inquired about the meeting format, we were told by email that "Due to the pandemic, we have decided to hold a pre-recorded annual public meeting with remarks from our Chair and CEO." Meeting participants, if there are any, can submit questions by email.
As of 11 a.m. on April 21, the meeting notice hadn't been posted to the CIB website's home page or news page or shared on bank social media accounts. No invitation has been circulated to members of the public who have signed up for email updates from the bank. Notice of the meeting is buried at the bottom of the "Reports" section of the bank site.
Much of the bank's privatization work is shrouded in secrecy and inaccessible to the public. A public meeting that fails to invite members of the public only adds to the CIB's transparency and accountability problems.
CUPE has sent the following questions to the CIB:
What factors about the pandemic specifically informed the CIB's decision to shift from live online meetings to a pre-recorded meeting? Previous annual public meetings have been held live online without problems.
Please elaborate on how the public will be able to ask questions, who will be responding to the questions, and the timeframe to respond.
Will the CIB publish a list of all questions submitted, with answers, as has been done in the past?
Please provide details of the methods the Canada Infrastructure Bank office employed – including paid advertising, public outreach, social media promotion, and all other strategies – to ensure robust public engagement and participation in this annual public meeting.
Was a meeting notice circulated to everyone who has signed up to be informed about CIB activities at https://cib-bic.ca/en/subscribe/? (A CUPE staff member has subscribed with their work and personal emails and has not received a notice about this event.)
The Canada Infrastructure Bank is a federal crown corporation mandated to broker privatization deals for our public water, roads, bridges, and other vital systems. The bank is responsible for $35 billion in public funds. From day one, CUPE has called for a public bank that supports municipalities with low-cost loans to build public infrastructure, and has criticized the secrecy surrounding the bank.