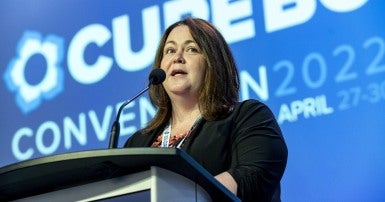 Rising costs of living are hitting Canadian workers hard and CUPE National's Secretary-Treasurer Candace Rennick committed to making sure CUPE locals have resources to fight for members.
"Everyday my resolve grows stronger," said Rennick to CUPE BC Convention delegates. Detailing the impact of the highest inflation in 30 years with rising prices of food, fuel, and housing not being balanced by wage increases, she pledged CUPE's support in the fight to help members keep up.
"That means a wage cut in real terms," she said. "We need to make sure members are not crushed by rising costs and interest rates. We need to work for our lowest paid members."
Rennick remarked on the challenges faced by CUPE members during the pandemic with lay-offs and COVID-19 infections, including twelve members who tragically passed away.  
"You risked your lives to save the lives of others. You all kept going and you helped us all," she said. "CUPE members have seen the disproportionate and intersectional impact of the virus. For two years CUPE members persevered, and it was their sacrifices that brought our country back."
Rennick noted that as inflation rises so do revenues with $30 Billion more collected by the Federal government. While Canada's NDP negotiated a national dental plan, the Liberal government is still not providing for crucial programs like housing and pharmacare. She highlighted CUPE's work with locals and CUPE BC to campaign to make lives better for people with campaigns for public childcare and transit.
"Governments respond to pressure. They are being pushed from the right and they should be pushed from the left too," she said. "If we want change, we have to fight for change. We must organize and mobilize to get it. The stakes are very high. When you succeed others will succeed too."
"You can draw on CUPE National," she committed to delegates. "You can count on getting what you need to organize, to mobilize, and stand your ground."
For Rennick, intersectional equality is at the core of CUPE's action and that involves making decolonization a priority for the union.  
"There will be no justice or equality without bargaining or political action," she said "We must fight for those at the bottom of the pay scale. When we campaign, we must do so every time to improve equity."
That work means making certain the structures and staff of the union reflect the diversity of Canada. Rennick also promised ongoing support for safe spaces for members saying gender-based violence is deeply engrained in the union.
"Big system change is coming to our organization,"' said Rennick "We cannot sweep this under the rug."
Despite the struggles ahead, Rennick explained that with these daunting challenges come opportunities, and with values routed in progressive feminist and anti-racist principles, she looks forward to working to build an equitable and sustainable economy.
As CUPE's Secretary-Treasurer I will have your back in the struggle for justice, equality, and respect."