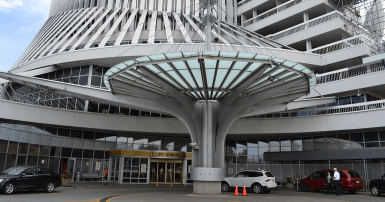 The Montreal Casino is preparing to move ahead with hundreds of hidden layoffs, which violates the collective agreement that is still in force. This situation was denounced by the union representing croupiers, which has demanded that the government intervene in this matter involving its Crown corporation.
"When the pandemic started, employees were paid until July 21, 2020. From that date forward, they were laid off. In spite of the fact the employer can bring back all of its employees starting on March 14, the casino is refusing to do so. However, on that date, all of the government's restrictions, except for the wearing of masks, will be lifted.  We demand that they bring back all employees on March 14. If not, hundreds of workers will be out of a job for good by July 21," denounced CUPE union representative Jean-Pierre Proulx.  
The Montreal Casino is not a typical employer. Employees must go through a rigorous process and are investigated to determine their integrity prior to being hired. They work with clients that are quite difficult at times, and they bring in a lot of money to public sector coffers.
"The Montreal Casino has clearly used the pandemic to get rid of their employees, totally disregarding their contract in the process. The government must intervene to guarantee the long-term operation of the Casino de Montreal," Proulx added.
Starting February 28, 2022, the Montreal Casino will be able to open at 50 per cent capacity and to full capacity two weeks later.