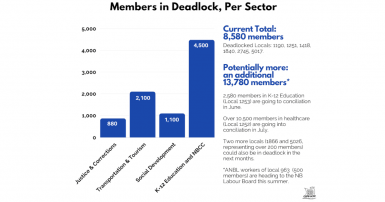 CUPE NB, representing over 28,000 workers in New Brunswick, held a press conference to announce its ultimatum to NB Premier Blaine Higgs.
"Starting Sunday, May 30th, Premier Higgs has one hundred (100) days to settle collective agreements for all the CUPE locals who have been waiting long enough for a fair deal," said CUPE NB President Stephen Drost.
Higgs has until Labour Day in September to fix recruitment and retention issues and bring fair wages to the 21,860 CUPE members in bargaining – over 8,580 of which are in a deadlock and more than 13,280 who are headed for conciliation in the next 50 days.
"If Higgs refuses to act in a tangible manner, once the 100 days are passed, CUPE members will have to mount a province-wide coordinated action," added Drost.
"This ultimatum is the most responsible way to get this government to act. By September, most residents will already be vaccinated. One hundred days is more than generous when you consider how most workers have been waiting for years and years to get fair deals," said Drost.
During the press conference, CUPE Local 1840 – representing NB Court Stenographers – also announced it had just filed a request to the NB Labour and Employment Board to recognize a deadlock in bargaining. Government has refused to offer Court Stenographers a fair deal since 2016. 
Before Christmas, in the middle of the second COVID-19 wave, Premier Blaine Higgs promised "Zeroes for our Heroes." All NB public sector workers would be mandated a wage freeze followed by three years of one percent increases. Half a year later, Higgs has not yet altered his collision course with the public sector: "He has not acted in any way to fix the recruitment and retention crisis in major sectors. Higgs is playing a dangerous game of poker, thinking essential workers who fought off COVID-19 will simply fold under pressure, rather than unite and demand respect," concluded Drost.