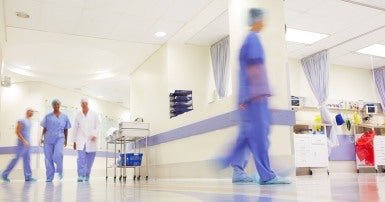 Two Ontario nurses were at Queen's Park to tell MPPs from all parties that they want "something meaningful" for Nursing Week this May. "We need your help to discourage the wave of violent assaults by patients and patients' families on Ontario nurses and other health care staff," they said in asking MPPs to support an amendment to the federal Criminal Code, which would make it a more serious offence to assault a health care worker.
Sandra Hillcoat, a registered practical nurse (RPN) from Kitchener, and Maggie Jewell, an RPN from Lindsay, recounted stories of nurses and personal support workers who have suffered broken bones, facial and brain injuries and in several cases, who have been left unable to walk or to work again, following a patient assault. Many nurses suffer post-traumatic stress and other psychological damage.
"Violence against health care staff is normalized by our employers as an accepted hazard of our work. Patients and their families take out their frustration over an increasingly under-resourced and stressed health system on health care staff. We are here today to say that health care workplaces that are unsafe for staff are also unsafe for the public we care for. We are also here to ask for real recognition from MPPs for Nursing Week in the form of all-party support for an amendment to the Criminal Code which would discourage violent attacks on health care workers," said Jewell with the Canadian Union of Public Employees (CUPE).
One in two nurses was assaulted in Ontario in 2014, the last year for which complete data is available.
"We are asking for recognition for Nursing Week in the form of a signal from Ontario's provincial politicians that the wave of violent assaults against nurses and health care staff is unacceptable. The amendment we are asking all MPPs to support requires a judge to consider the fact that the victim of an assault is a health care worker to be an aggravating circumstance for the purposes of sentencing," said Hillcoat with Unifor. 
A similar Criminal Code provision covers transit employees in Canada. The amendment would apply to a nurse, a doctor, a personal support worker, a paramedic or any other health care worker including those in long-term care, home care and other community support staff.
"The reality is that society has an unfortunately high tolerance for violence against women and this cannot help but materialize in workplaces which are largely female dominated, as in health care. Many nurses have been beaten up at work so badly that they will never work again. Amending the Criminal Code is a beacon to nurses and health care staff that the wave of assaults against them is seen to be serious and that it is unacceptable," said Katha Fortier, Assistant to the President of Unifor.
Front line health care staff with both Unifor and CUPE report a culture where acts of violence are not reported and investigated and where staff are blamed for the assaults against them. One nurse in North Bay was fired in 2016 for speaking out about the issue of violence.
The problem is very complex, said Michael Hurley, president of CUPE's Ontario Council of Hospital Unions. "It is rooted in society's attitude towards violence against women; the impact that cuts to services like mental health and addictions are having; increased drug use; public impatience with longer waits within institutions for attention and the way in which work is managed within health care. The problem of violence won't go away just with this amendment to the Criminal Code. But talking about the problem, exposing it and working for change will turn this problem around."
The amendment to the Criminal Code being sought can be found here.