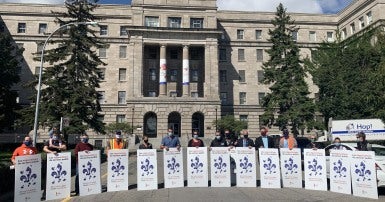 The Syndicat des techniciens et professionnels du CIUSSS de l'Est-de-l'Île-de-Montréal (CUPE 5425) held a demonstration in front of their workplace today to remind the government that the relative calm with respect to the epidemic has provided an ideal time to act without further delay to resolve the collective agreement of thousands of employees. The union members put up signs around the hospital as a reminder of the urgency to get down to work on this issue.
Marc Ranger, the FTQ public sector bargaining coordinator and director of CUPE-Quebec, attended the event and made the following comment:
"COVID-19 has hit Quebec hard, and were not out of the woods yet. The government did not hesitate to invest billions of dollars in infrastructure spending to kickstart the economy. The time has now come it to recognize the work of thousands of health care and education workers, who have gone all out in an extremely trying environment to get the public through this unprecedented crisis."
Social infrastructure
Hundreds of workers came out in front of Hôpital Louis-H.-Lafontaine to remind people that they represent the social infrastructure of the province and that the government owes it to itself to arrive at a negotiated agreement prior to the next wave.
"Let's all invest in this social infrastructure to stabilize it and thus prepare everyone in Quebec to face up to difficult times," said Marc Ranger.