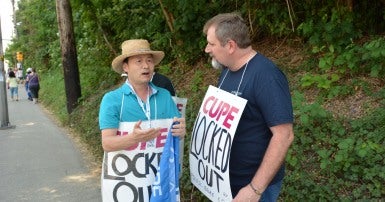 CUPE National President Mark Hancock had a sober message for Pacific Blue Cross when he joined locked out CUPE 1816 members at the picket line on Monday afternoon: cutting retiree benefits is a good way to ruin the PBC brand.
"These workers are the heart and soul of Pacific Blue Cross. They've made the company what it is today, and they're dedicated to making it the best benefits provider it can be. And yet they are being treated with no respect at all," said Hancock.
"Going after retiree benefits is unacceptable, and we know this company is financially sound. So they need to stop the B.S., get back to the bargaining table and negotiate a fair contract that not only defends those benefits but returns some dignity and respect to this workplace."
Learn more:
Late last week the CUPE 1816 negotiating committee announced that, resulting from mediation, the Local was successful in reducing the levels for Essential Service workers and reached an agreement with the employer that the unilateral changes to the Collective Agreement would not apply to the Essential Services employees.
Pacific Blue Cross provides health, dental, life and disability coverage for more than two million individuals and union members working primarily in education, municipal, health care and government. CUPE 1816 members working at PBC represent a wide range of job classifications including underwriters, benefit examiners, disability claim representatives, benefits administrators and call centre employees.
Hancock and CUPE 1816 members were joined on the picket line by CUPE BC President Paul Faoro, United Steelworkers District 3 President Steve Hunt, and several members of MoveUP.
For photos from the lockout line, visit the CUPE BC gallery.