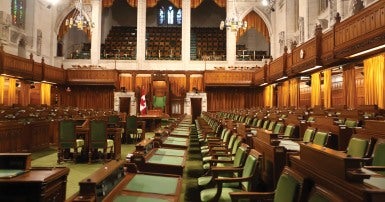 CUPE continues to fight for an equitable recovery from the ongoing COVID-19 pandemic. On Wednesday, CUPE National President Mark Hancock wrote to Prime Minister Justin Trudeau with CUPE's goals and expectations for the new Parliament, which finally reconvened recently after the September election.
In the letter, Hancock stressed the need for more federal action to fight climate change, advance reconciliation, fix health care and long-term care, and more.
As the omicron variant fuels economic uncertainty and potential job losses, Hancock called for the government to immediately reinstate the Canada Recovery Benefit (CRB) which has been an important lifeline for workers and families to make ends meet throughout the pandemic.
On climate, CUPE is calling for urgent federal investment in clean, public sources of renewable energy, and training opportunities for workers to transition in the economy of the future.
On reconciliation, Hancock reiterated CUPE's calls for the government to recognize the harmful legacy of the residential school system and the ongoing damage that Canada's assimilationist policies and laws have on Indigenous peoples, and for urgent action to ensure access to clean drinking water on reserves.
Hancock also outlined CUPE's expectation that the Prime Minister will respond to the lessons of the pandemic by finally doing what's necessary to fix Canada's health care and long-term care systems. CUPE believes the federal government must commit to increasing core health care funding by a minimum of 5.2 per cent per year. CUPE also believes the federal government must address chronic understaffing and lack of beds, low wages, and poor working conditions that run rampant in the long-term care sector, especially in the private, for-profit long-term care industry.
CUPE has not forgotten about the Liberals' longstanding promise to implement pharmacare, and Hancock relayed CUPE's expectation for the government to commit to a single-payer, universal pharmacare system in the 2022 federal budget.
CUPE is encouraged to see all provinces but Ontario have now signed an agreement for affordable child care with the federal government. Hancock argued now is the time for a national early learning and child care program to help women return to the workforce, and to ensure decent wages and working conditions are available to child care workers nationwide.
Other priorities outlined in the letter include increasing fines and penalties for harassing and assaulting flight attendants, reversing the government's support for the Canada Infrastructure Bank's privatization agenda, and strengthening the Canada Pension Plan to guarantee retirement security for everyone.