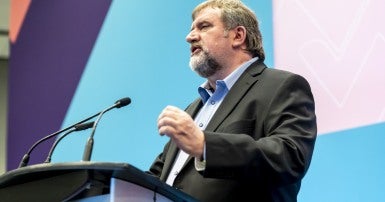 CUPE National President Mark Hancock opened convention on Tuesday with a speech saluting the bravery and determination of CUPE members who fought through great uncertainty to deliver vital public services to their communities throughout the COVID-19 pandemic.
"In every city, town and community across Canada, in every sector, during some of the darkest days that any of us will ever know, CUPE members showed up."
Hancock also noted that despite the challenges of the pandemic, CUPE continued to organize thousands of new members, make major gains at bargaining tables across the country, and make an impact through political action and international solidarity.
Hancock also took aim at provincial Conservative governments across the country, which have already returned to their old ways of attacking public services and the workers who deliver them.
"Simply put, we're up against governments who have learned nothing at all from this pandemic or – even worse – governments who just don't care," said Hancock. "We have no choice: we must stand up to these governments, and we must defeat them."
However, Hancock noted, a brighter future is within reach, as more and more people understand the importance of strong public services.
"Everyday people have a renewed understanding of the importance of public services," said Hancock. "They believe in us, and the work we do. They understand who let them down when wave after wave of this pandemic hit. And they understand who lifted them up during those darkest hours too."