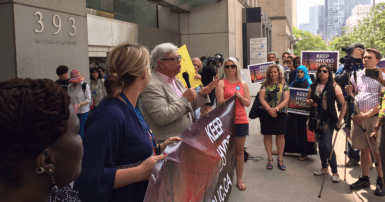 In an attempt to have the lawsuit against the Premier and Ministers of Finance and Energy dismissed before even going to trial, government lawyers argued in court today that the three were protected from any wrong doing because they are protected by parliamentary privilege.
Claiming the courts should not have jurisdiction in the case and suggesting that the plaintiffs in the case have not been hurt any more than the rest of the people in Ontario, the government lawyers called on the judge to dismiss the misfeasance suit brought by CUPE and CUPE Ontario President Fred Hahn, over the sale of shares in Hydro One.
"Their lawyers have thrown every argument, including the kitchen sink, at the court today to try and stop our lawsuit from going ahead because, I suspect, the Premier and Ministers are very worried about the details that will come out if the case is allowed to go forward," said Fred Hahn, outside the Toronto courthouse.
"Their arguments seem to have purposely mischaracterized the nature of our claim by suggesting the courts don't have jurisdiction over a political decision, when what's at stake here is a misuse of power," Hahn continued. "If the Liberal Party of Ontario and their supporters, directly benefited from their decision to sell shares in Hydro One, when they knew it would hurt the people of Ontario, that is wrong and they must be held accountable by the courts."
Prior to the sale of shares, expert opinion made it clear to the Premier and her Ministers that the sell‑off of Hydro One shares would be bad for the province, including the government's own financial accountability officer, Stephen LeClair, who has warned:
"In the years following the sale of 60 per cent of Hydro One, the province's budget balance would be worse than it would have been without the sale…The province's net debt would initially be reduced, but will eventually be higher than it would have been without the sale."
Immediately after the first sale of shares went through, those who made tens of millions off the sale, held fundraisers for the Liberal Party of Ontario, one of which was explicitly billed as a celebration of the sale.
Lawyers representing CUPE in the misfeasance suit methodically countered the governments arguments and demonstrated the merits of the case and why it should be allowed to go forward.
"I trust our court system and I am hopeful that the judge will rule against the government's motion to dismiss," said Hahn. "Privatizing our hydro system was wrong. The fact that the government pushed ahead with selling off majority control before this case could come to trial, seems to reinforce the notion that they're more interested in creating benefit for themselves and their high‑powered friends instead of the people of Ontario."
The judge has recessed the court to deliberate before rendering his decision.