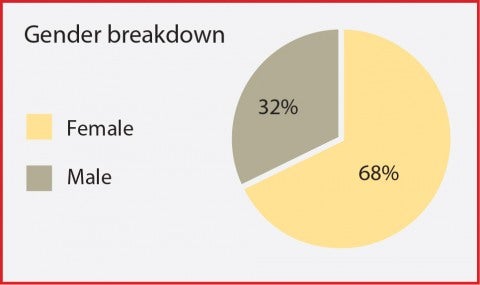 Karin Jordan and Margot Young
This summer CUPE conducted its first ever comprehensive survey of its membership. This survey was mandated by the Strategic Directions plan adopted by delegates at CUPE's 2013 National Convention. It was intended to give a better understanding of the union's demographics and diversity, as well as the degree to which its members face precarious work.
After a very positive response from locals a large pool of names was collected to draw from for the survey sample. Interviews were conducted over the summer.
Preliminary numbers have since been provided to CUPE Research by Viewpoints Research, the firm that conducted the survey. After a preliminary look at these numbers CUPE Research can now give a high-level snapshot of our membership.
Who was surveyed and what did they say?
Because we had a solid sample to draw from the survey results are reliable. Working with this dependable data helps CUPE to develop better insights into our membership and to look at more variables as we analyze the results. The high level of participation from CUPE locals also shows that many are hungry for information and eager to work together with the national office on strategic initiatives such as this survey. 
Thanks to the hard work of CUPE local executives, leaders, and staff, Viewpoints Research was able to randomly sample from a total of 82,431 names provided by 198 CUPE locals. There were enough contacts from each province, from each size of local, and from each sector to ensure that a representative survey could be undertaken.
Overall, nearly 3,000 interviews were completed. Members who participated were asked a series of questions adapted from existing surveys and touching on job security, demographics and diversity, and union awareness. Survey questions were designed to allow us to compare results with the Statistics Canada Household Survey and the Poverty and Employment Precarity in Southern Ontario (PEPSO) survey, a joint project of McMaster University and the United Way of Toronto that looks at the social and economic consequences of job insecurity in the Greater Toronto and Hamilton area.
How will the results be used?
The survey will help CUPE to provide more effective and targeted support to locals in bargaining. Grounded in the reality of its members' lives and experiences, CUPE can better represent their interests as it defends full-time work and bargains pensions, benefits and better working conditions. Perhaps most importantly, by looking at the raw demographics among our membership, the survey will tell us the number of equality seeking members and provide a guide to the scope of the work we must undertake in support of our members. CUPE will also have a greater capacity to tell its members' stories using real data, situating their struggles and successes in a broader context.
Once further analysis on the survey results is completed it will be shared with CUPE members in 2015.