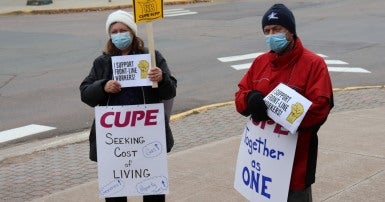 Striking and locked out CUPE members, other frontline workers and supporters from the public will march to the New Brunswick legislature tomorrow as MLAs return to the legislature.
More than 20,000 CUPE members have been on strike since October 29. Negotiations fell apart after premier Blaine Higgs walked away from the table and then reduced the province's wage offer. Since the strike began, the New Brunswick government has locked out education workers, some who were already on strike and other who were designated as "essential workers" in an agreement between the province and the union. These designated workers continued to provide services in schools, such as support to children with special needs. They are now locked out and their services are no longer being provided.
The march will begin at two different locations at noon and converge at the legislature at 1 p.m. CUPE members are seeking a contract that includes real wage increases after over a decade of stagnant wages. Picket lines across the province have seen a tremendous amount of public support. CUPE members are hoping to bring this level of support to the steps of the legislature. 
Who:    Striking and locked out CUPE members, frontline workers and supporters
What:   March to the New Brunswick Legislature in support of frontline workers
Where: March #1 (12pm): Start at Lady Beaverbrook Rink – 411 University Ave. Fredericton, NB
              March #2 (12pm): Start at FREX – 361 Smythe St. Fredericton, NB
              Rally (1pm): 706 Queen St. Fredericton, NB        
When:  12:00 p.m. marches begin at two locations
              1:00 p.m. marches converge at N.B. Legislature for rally