Kelti Cameron | CUPE National Services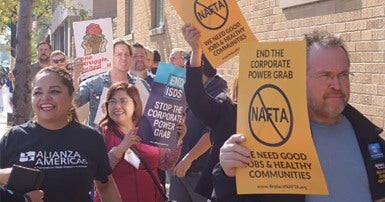 In October, a tri-national solidarity meeting with over 50 representatives of unions and civil society organizations from Mexico, the United States and Canada gathered in Chicago to discuss fight-back strategies as their governments renegotiate the North American Free Trade Agreement (NAFTA). The meeting was coordinated by the United Electrical Workers (UE), UCLA Labor Center and Rosa Luxemburg Stiftung, a German-based international civic education institution.
For CUPE, this was an important opportunity to build collaborative relationships with unions and social movement organizations in the US and Mexico who also want to ensure public services, fair wages, decent working conditions, the environment, and human rights are central to the NAFTA renegotiation process. Everyone agreed that trade union rights and ending corporate protections like Investor-State Dispute Settlement (ISDS) were a priority.
Our sisters and brothers in Mexico were clear that NAFTA has done nothing to better their working or living conditions. On the contrary, the agreement was set up to serve the interests of the corporate sector which imposes low wages and lax environmental regulations on the government as a condition for investment.
Women are particularly vulnerable in the export processing zones, known as maquiladoras, that proliferated on the Mexico/US border when NAFTA was first signed in the early 1990's. NAFTA is unable to protect workers from these predatory employers, and the unions in attendance in Chicago were skeptical that a renegotiated NAFTA would change this.